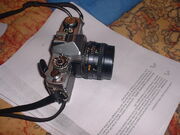 I just returned from vacationing in Greece. Here is the photography equipment I carried with me:
Camera Body (Canon);
17-85mm Lens (used it extensively);
70-200mm Canon L Type Lens (never used it);
100-300mm Lens (used it sparingly);
1 Memory Card;
DVD Burner and blank media (used it extensively);
Extra Battery;
Battery Charger (did not need it);
Camera Bag (did not use it; used my backpack instead);
Ad blocker interference detected!
Wikia is a free-to-use site that makes money from advertising. We have a modified experience for viewers using ad blockers

Wikia is not accessible if you've made further modifications. Remove the custom ad blocker rule(s) and the page will load as expected.