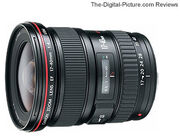 The
EF 17-40mm f/4L USM lens
is a
wide-angle
lens
made by
Canon
.
The lens has an EF mount to work with the EOS line of cameras.
Specifications
Edit
This article contains information originally taken from the Wikipedia article "Canon_EF_17-40mm_lens". You can see the authorship and revision history of that article here.
At canon's website:
At dpreview.com:
At fredmiranda.com:
Ad blocker interference detected!
Wikia is a free-to-use site that makes money from advertising. We have a modified experience for viewers using ad blockers

Wikia is not accessible if you've made further modifications. Remove the custom ad blocker rule(s) and the page will load as expected.